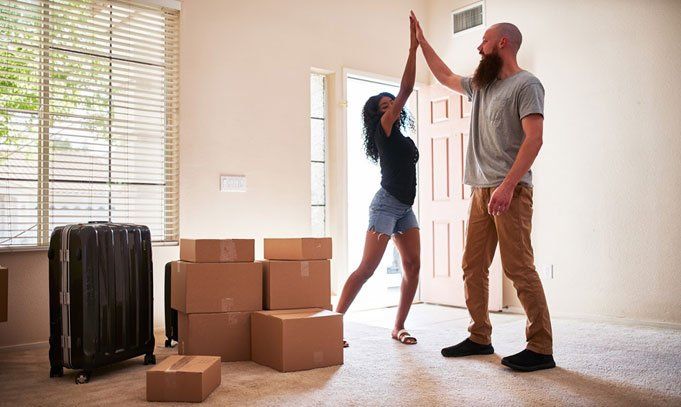 1. Pack a Necessities Box
Not knowing where your necessities are located can be one of the most frustrating parts of your first day or two in your new home. Most people organize their boxes by room when packing, and most people need items from several rooms throughout the day; this is a recipe for not being able to find what you need until after you unpack.
Some examples of items to include in your necessities box include a few changes of clothes, toiletries, medications, and any valuables that you don't want to lose in your packing. You may also want to include your cell phone charger or a favorite book if you will have some down time before unpacking.
2. Get Rid of Unwanted Belongings
The fewer items you have to move, the less difficult your move will be. There's never a better time to get rid of belongings that you no longer need or want than when you're moving. As you pack up, keep separate piles for items that you will sell, donate, or trash. You may end up having much less to move than you expected, and your new home will be cleaner as a result!
It isn't always easy to decide what you should keep, so you can use a simple trick called the dust test to help you. If you can run your finger across an item and pick up dust, it's probably been a while since you last used it and you may not miss it in your new home.
3. Leave Organized Items in Their Containers
One of the best ways to make moving less difficult is to eliminate as much unnecessary work as possible. Many people have clothes in dressers or on hangers, books or movies on shelves, and other items that are already mostly organized in their home.
If possible, leave items such as these in their containers and wrap them, instead of moving the items to new boxes. This is quicker and reduces the amount of space you need to transport your belongings.
4. Call Ahead for Utilities
Just as you don't want to be stuck without essential items when you first move, you want to be sure your essential utilities are ready to use as well. It's a good idea to call a couple weeks before you arrive at your new home so that there is time for technicians to visit the site if necessary.
If you will be using the same service provider, you will be able to call them and request a transfer. Tell the provider the exact dates you need service shut off in your current home and started in your new home. If you are changing providers, you will have to both call and cancel with your current provider and set up service with someone else at the new location.
5. Hire Professional Movers
The best thing you can do to make your move go as quickly as possible is to work with professional movers. Movers will save you the hassle of renting a truck or van yourself, and many will even pack for you for an extra fee.
If you're ready to make a move and are in need of experienced professionals, contact us at Fairfax Transfer & Storage so we can help you get this new chapter in your life off to a great start!