No matter how many times you already moved, it's not uncommon to feel moving anxiety. That's especially the case if you're moving long distances, or even to another country or state. Of course, hiring reliable companies like
Fairfax County movers
can help a lot. However, you also need to know some essential tips to de-stress your move. Here are some advice that will help you have a smooth and stress-free relocation !
Is moving stress normal and how to deal with it?
Moving-related stress is completely normal. It happens a lot more than people think. Sometimes people who are going through it don't even realize it due to the huge number of responsibilities and worries that accompany moving. It can be made easier by hiring the good movers Virginia residents recommend or by learning some essential tips to de-stress your move. But yes, it does happen a lot. In order to recognize it, we can tell you some of the main causes!
Changes – A change of environment, a new job, a new school for the kids, new people, and so much more. Changes create anxiety and stress! So it is quite normal to cause moving stress.
Money – One of the biggest reasons for moving stress is money! People often find themselves in a situation where they need to budget in order to move. But even next to a move, there are other bills to pay as well!
 Time – As time passes and the moving date approaches, our stress rises as well. There is nothing worse than the date approaching and you not being anywhere near finishing!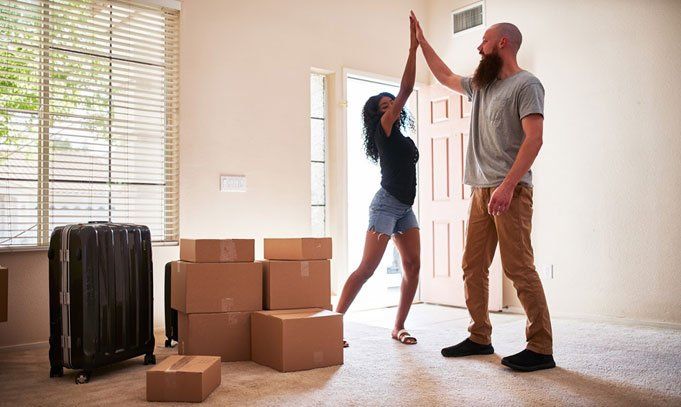 1. Pack a necessities box
Not knowing where your necessities are located can be one of the most frustrating parts of your first day or two in your new home. Most people organize their boxes by room when packing, and most people need items from several rooms throughout the day; however, this is a recipe for not being able to find what you need until after you unpack. A nice way to evade this outcome is to pack an essential box.
After you hire the best moving services Northern VA has to offer, it's time to make on. Some examples of items to include in your necessities box include a few changes of clothes, toiletries, medications, and any valuables that you don't want to lose in your packing. You may also want to include your cell phone charger or a favorite book if you will have some downtime before unpacking.
2. Get rid of unwanted belongings
The fewer items you have to move, the less difficult your move will be. There's never a better time to get rid of belongings that you no longer need or want than when you're moving. As you pack up, keep separate piles for items that you will sell, donate, or trash. You may end up having much less to move than you expected, and your new home will be cleaner as a result! It isn't always easy to decide what you should keep, so you can use a simple trick called the "dust test" to help you. If you can run your finger across an item and pick up dust, it's probably been a while since you last used it, and you may not miss it in your new home.
A nice way you can remove unwanted items is to place them in the storage Lorton VA moving companies offer. Here you can place anything you dont have room for, or that you dont want to move. Not only that but it can hold items you wish to sell or donate as well. There are different options and kinds of storage units on the market. And that means all of your needs will be met and catered to. Essential tips to de-stress your move mean a lot.
3. Leaving already organized items in their containers is also on the list of essential tips to de-stress your move
One of the best ways to make moving less difficult is to eliminate as much unnecessary work as possible. Many people already have clothes in dressers or on hangers, books or movies on shelves, and other items that are mostly organized in their homes. If possible, leave items such as these in their containers and wrap them instead of moving the items to new boxes. This is quicker and reduces the amount of space you need to transport your belongings.
Sometimes this can be a problem. If not secured properly things will move and fall,  so professional help is advised. There is nothing better than asking the delivery service in northern Virginia for advice. Over the years they have gathered a lot of experience, and for quite affordable fees they will also help you!
4. Call Ahead for Utilities
Just as you don't want to be stuck without essential items when you first move, you want to be sure your essential utilities are ready to use as well. It's a good idea to call a couple of weeks before you arrive at your new home so that there is time for technicians to visit the site if necessary. If you will be using the same service provider, you will be able to call them and request a transfer. Tell the provider the exact dates you need service shut off in your current home and started in your new home. If you are changing providers, you will have to both call and cancel with your current provider and set up service with someone else at the new location.
5. Hire Professional Movers
The best thing you can do to make your move go as quickly as possible is to work with professional movers. Movers will save you the hassle of renting a truck or van yourself, and many will even pack for you for an extra fee. There are many reliable local movers in Northern VA. Just by calling them you can arrange for many different services. Depending on your needs as well as the size of the move, you can make arrangements.
If you're ready to make a move and are in need of experienced professionals, contact us atFairfax Transfer & Storage so we can help you get this new chapter in your life off to a great start! Why should you do that? Moving alone is so much harder than moving with help. People that have experience in the field are your best choice for a less stressful move.
Symptoms of moving stress
There are many symptoms of moving stress, and sometimes, people don't even realize it as they take those symptoms for something normal. But we need to make one thing clear, no matter how hard something is, never take any symptoms of stress for granted! Stress when moving may be a common occurrence but that doesn't mean you should not do anything about it.
Finding it hard to relax– One of the giveaways that you are stressed is shown by not being able to relax. Constantly feeling anxious and thinking about problems and moving won't help you in any way. And will actually set you back a lot! So make sure to find a way to relax.
Avoiding people – Self-isolation is not healthy! In most cases when this happens it is because we think that being alone will help us cope. But actually, it is the opposite. When we feel like we should distance ourselves is usually the time when we need someone next to us the most.
Sensitive – Being overly sensitive is a sign we need a brake. So take some time to relax and think. If you dont do this there are chances of arguments everywhere and not only in regard to the move.
Depression – The biggest danger of moving stress is depression. When feeling like nothing is going your way and under the pressure of a deadline, many people find themselves falling into depression.
Overall
Essential tips to de-stress your move are something everyone should be aware of. No matter how much you say "It won't happen to me", you can never be sure of that. Taking any measures to care about your mental and physical health is important. Especially during a long and tiresome process like moving. During this time you will be existed both mentally and physically. And it is also the time when you will be most vulnerable. So don't take it for granted.