Looking for a moving company? Fairfax has a number of great options in store for you! A thriving community with a bustling business and industrial scene, Fairfax certainly has its share of moving companies.
But how would one go about finding a reputable moving company?
Fairfax offers a good selection of established firms to be sure, but how do you know which ones can deliver the range and quality of service you need? And just as importantly, why should you insist only on a reputable firm for a requirement as seemingly simple and basic as moving?
Moving can be a very stressful and exhausting experience
Just ask anyone who has had to move recently–with numerous details to consider every step of the way. If you neglect even a single one of these details, your planned move could quickly turn into a disaster. And with everything else that you have to think of and take care of in the process of moving, chances are high that you might neglect one or more crucial details. This is why it would probably be to your advantage to hire a professional moving firm instead of taking on the task yourself.
Although you may have instinctively turned to the Internet in order to search for a firm that provides residential moving, Fairfax and other communities may have local firms that you would be better off considering. The vast number of companies that advertise online has made it virtually impossible to check out their services and capabilities personally, and you often won't know what you are paying for until the moving truck arrives. By then, it would be too late to get your deposit back if you decide that the company in question isn't up to your standards. For this reason, you may want to do your search locally instead of online.
Your local phonebook is a good place to start your search, as are the classified ads sections in the local papers. You could also get some recommendations from real estate agents in your area, and people you know that have recently moved. By all means, pay the companies a visit. Nothing can take the place of a face-to-face meeting with the moving company staff, and you will quickly be able to tell if they are capable of delivering the range and quality of service that you require.
It would probably be best to stick with the companies that have a long professional record of service.
Moving firms that have been in business for ten years or more will have the experience and technical know-how to do a satisfactory job, and they will be able to handle any contingency that comes up in a thoroughly professional manner.
Avoid moving brokers as much as possible. Many of them are ill-equipped and insufficiently experienced to handle the requirements of residential moving, and you could find yourself with more damaged household items than is reasonable to expect during a move. There is also little protection from unsavory business practices and poor service with such firms, due to the insufficiency or total absence of proper consumer protection laws pertaining to residential moves.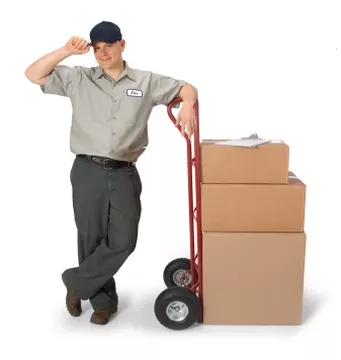 The importance of getting an estimate cannot be discounted. With most reputable moving firms, Fairfax residents are provided in-house estimate at no extra cost. This process ensures that you won't have to pay more than you have to for services that you don't need. There are more than enough firms out there that provide in-house estimates for free, so if you come across a company that doesn't provide these services–or charges you extra for them–you would be better off taking your business elsewhere.
Finally, don't forget to check on the company's reputation online. This is where you can make use of the Internet. Even if you seem to be negotiating with a reputable firm, a quick look at customer reviews online will provide you with valuable information regarding their capabilities and services during the actual moving process.
Here at Fairfax Transfer, we keep all of the above in mind to best tailor our service to exceed the standard of professionalism and courtesy expected from your average moving company. Please call us at (703) 550-7974 to ask any questions you might have about your next move.
Tags: reputable moving companies how to find a moving service friendly movers