If a move is in your future, packing up your home library can take a bit of planning. The good news is that you can save yourself some frustration by beginning the process several weeks in advance. Besides getting an early start, following some basic packing guidelines can get your prized books to their new destination without any damage.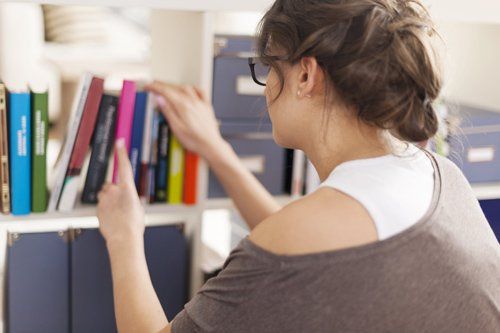 Create an Inventory
Now is the time to get rid of any books you don't want to take along to your new home. Recycle, give away, or donate books that you don't want to read again or that are in poor shape. You don't want to be toting along with any more weight on the move than what is necessary.
Consider cataloging your books so that you know what you are taking with you. There are apps and software programs available that allow you to scan the barcode of each book with your smartphone or tablet. If you have books that don't have barcodes, you can enter the ISBNs (International Standard Book Numbers) to add the books to your list.
Once you know what you're taking, decide whether to pack your books by alphabetized authors, genres, or size so that it's easier to organize them on bookshelves at your new home. Plan to pack paperback and hardcover books separately so that none of your paperbacks get damaged.
Prepare Boxes for Packing
Use small, sturdy boxes that are clean and dry. A flimsy box can break, and books can move around in a box that is too big. A bigger box may also tempt you to pack more books, making the box too heavy to carry.
Make sure the boxes have no holes or tears. Even if the boxes you use are new, reinforce the bottoms and side seams with packing tape. Place bubble wrap or several layers of packing paper on the bottom of each box for padding.
Follow Packing Guidelines
The Library of Congress recommends laying books flat or standing them upright — as you do on a bookshelf — placing the spines against the side of the box. You can also pack hardback books with the spines downward and the edges of the pages facing up. If you lay books flat, place heavier books in the box first, packing lighter books on top. Avoid stacking too many books on top of each other so the weight doesn't damage the spine of the bottom book.
Also, avoid packing books too tightly so that you don't damage them when you pull them out during unpacking. Use bubble wrap, soft packing paper, or crumbled newsprint paper to fill in gaps to prevent books from shifting during transport. If you can fit two rows of paperback books in a box, pack them spine to spine so that the pages of different books don't touch each other.
When packing rare collectible books or books that have sentimental value, place layers of stiff cardboard between each book to keep the spines straight. You may also want to wrap each book individually in soft packing paper.
Carry Out the Final Steps
Before closing the lid of a box, place a sheet of packing paper on top. If you won't be unpacking them immediately, put a silica gel packet in each box to absorb moisture, which can damage your books.
Tape boxes securely closed and label with the word books so that the movers know the boxes are heavy to lift. For your purposes, also indicate whether the books inside are hardback or paperback and packed by author or genre.
If you aren't sure how to pack books or other household items for a move, the professional moving crews at Fairfax Transfer & Storage can take a load off your mind and do it for you.