Linens and quilts can have immeasurable value. Heirlooms, inherited bedding, and artistic pieces that were handcrafted by loved ones require special handling and storage as you prepare for a move. Before packing your finest fabrics, take a look at what you need to know about transporting and storing linens or quilts.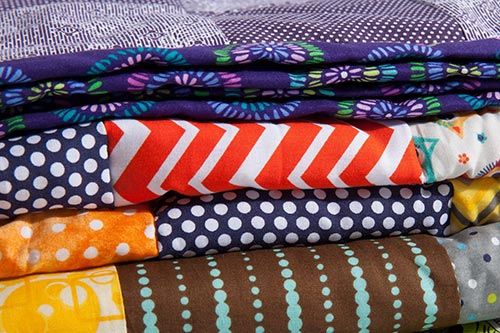 Clean First
Packing dirty or soiled bedding may solidify the stain, making it near impossible to remove in the future. Stains on fabric can oxidize while in storage, leaving behind a yellow or brown patch or spot. They can also smell, leaving an unpleasant scent that grows to fill your storage unit.
While some linens and bedding are machine washable, a DIY approach can fade fabrics and solidify stains (instead of removing them). Prior to storing your sheets, pillow cases, comforters, shams, or quilts, consult a professional dry cleaner for the correct cleaning procedure.
Avoid Pulp Products
Layering your heirloom linens and quilts with tissue, cardboard, or another paper-based product won't protect them. This organizational strategy may have the opposite effect, ruining the fabric for good. Some types of wood pulp–based products (papers) can cause the release of volatile organic gases when paired with linen. These gases cause yellowing or staining that is almost always irreversible.
Instead of using traditional paper-based products that you would buy at any store, purchase specialized acid-free tissue if you want to wrap or separate your linen bedding.
Storing your linens in cardboard boxes or cedar (or other wood) chests and drawers can also produce the same ill-effects that you'd find with pulp-based papers.
If your plan is to keep the linens or quilts in the boxes for a few hours, during the move, you shouldn't have a problem. As soon as you get to your new home, take the bedding items out and store them in a cool, dry closet, or use chemical-free batting tubes.
Remove Plastic Bags
Plastic bags or garbage bags may seem like ideal storage options. But this supposed solution may leave your bedding or heirloom quilts stained, yellowed, or covered in mold.
Plastic bags and wrap can trap moisture inside. The damp environment degrades the quilt/linen's fibers, making it look old or worn. Any amount of moisture can also create an environment that supports fungal (mold and mildew) growth. Mold growth on fabric creates stains and smells. It can also create an unhealthy or allergy-inducing environment.
If you prefer to move your linens and quilts in bags instead of boxes, white fabric bags are a preferable choice over plastic.
Control Temperature
Along with plastic bags, quickly changing temperatures can also damage delicate bedding. If you will be moving from extreme cold to warm or hot temperatures, moisture may form and damage the fabric.
While you can't control the temperature outside, you can control the thermostat in interior spaces. Move your linens and heirloom quilts as quickly as possible, immediately unpacking them in the temperate space of your new home.
Stop Stacking
After the move, you'll need to store your linens and quilts. While you can fold linens and quilts temporarily during the move, the pressure from stacking them over time can create creases that even a professional may find challenging to remove.
Placing acid-free tissue inside of folded quilts can reduce wrinkling or creasing. You can also roll the quilts, instead of stacking them.
Keep Color Away
Non-colorfast papers or fabrics can bleed — especially when exposed to moisture or humidity. Never pack bedding with colorful papers, newspaper, or fabric to keep it safe during the move. This tactic may have the opposite effect, ruining your delicate linens instead of protecting them.
If the paper or fabric gets wet during the move or you leave it there after the move, the color can transfer onto your cherished linens, staining them forever.
Do you need help moving? Contact Fairfax Transfer & Storage for more information.